Testimonials
"Our website and online ordering system have allowed our customers to order Chinese food in a different way. We believe this is a preferred way for a lot of people."
- Jinchao Liang, Owner
Tips from the Owner
Promoting your website and having an online ordering option requires that you educate your staff to tell customers whenever the opportunity comes up; whether it be when they are calling in for delivery or picking up take-out. People who order food today by phone may not know that they can create an account and order online from the website. We often find that phone calls can take longer than usual because the customer may have to decide what to order on the spot. By offering an online solution to them, we reduce our time on the phones and they get to think through their choice longer. We tell customers to order online when we can. We even have a poster on our window that advertises our online ordering option. As a result of our website and online ordering system, we have seen an increase of 25% in food orders compared to last year.
About Lucky Star Chinese Food
Lucky Star Chinese Food is a Chinese takeout and delivery restaurant located in Orleans, ON (Ottawa East area). They offer an extensive menu of Chinese dishes from Chicken Fried Rice, Shanghai Noodles and their most popular dish; the General Tso's Chicken.
About MENU.CA
Menu.ca provides the tools and technology restaurants need to succeed and grow - offering a complete online ordering system along with internet marketing services allowing you to build customer loyalty, maximize brand power, and increase revenue.
Menu.ca was founded by James Walker and Chris Bouziotas. The mission is to help restaurants market their business online better, but also to provide online measurable outcomes with everything that they do. Unlike many of the online food ordering systems that are in the market today, MENU.CA will help with a restaurant's branding by providing them an online ordering system on their own website.
Goals
Lucky Star Chinese Food had three main goals:
1. Create a website where customers can look at their menu and place orders online
2. Increase traffic to the website and promote their menu across multiple channels
3. Increase overall number of delivery and takeout orders through the online ordering system
Challenges
No branded website with information about the restaurant and their menu
No online food ordering system for their delivery and takeout services
How Lucky Star Chinese Food succeeded with MENU's Online Ordering System
Branded Website - Before MENU, Lucky Star Chinese Food only had the directories on the web to advertise on. Today, they now has a website where customers can visit and learn more about the family run business.
Robust Online Ordering System - The online ordering system is the gateway to Lucky Star Chinese Food's success online. Customers can now easily sign up and place an order right from the website. The order is then printed at the restaurant where the chefs can take and start preparing the order.
Clear and Strong Call to Action - The homepage is the first page that most customers will see when they enter the website. By presenting three options: delivery, takeout and re-order, it makes the experience very easy for a customer to then go to the menu and choose their dishes.
Exceptional Food and Customer Service - Backed by their authentic Chinese dishes, Lucky Star Chinese Food excels with online food ordering because their customers crave for more. Their friendly staff involved also helps to create the warm rapport with customers, which has them coming back for more every time.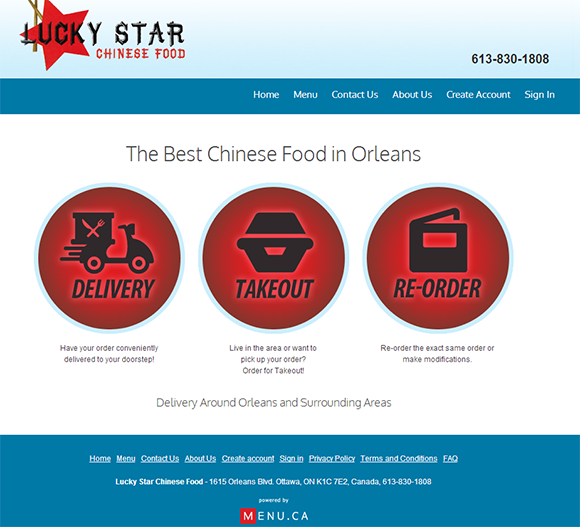 Why Should a Restaurant Use MENU.CA?
The behaviours of our consumers today have changed. People are looking now looking online for recommendation and reviews for places to try. In a recent study by comScore, only 7% of web traffic to a website was from a non-PF device. Today, it is 15% (source). Search is the #1 smartphone browser activity (source) - this means restaurants need their menus online!
Want to find out more about our online ordering system?